Finally, i get a chance to complete this blog post. I was having some issues with my blog due to sever migration issues. Glad it is all working now.
The last week of April has given me alot of mix feelings.
On one hand, i get to enjoy doing what i love most, TEACHING. And feel blessed to be teaching my favourite modules with my favourite classes of students. On the other hand, it was my last lesson with these classes. We had endless laughter and 36 hours of joy in learning and teaching with each of my favourite classes. Thus, it was also a week of hardest good bye.
Monday, 25 April 2016, on the day of my birthday. First of all, i want to thank the 287 friends and also to all those who had drop me an instant birthday wishes message.
I got banned by Facebook from replying everyone of you due to suspected of spamming my own FB wall. I guess it was a happy problem.
Tuesday, a hard good bye to my MK0273 Market and Customers Group A Northumbria University Class at Kaplan.
Wednesday, a hard good bye to my MK0273 Market and Customers Group B and my Full Time MK0273 Market and Customers Northumbria University Class at Kaplan.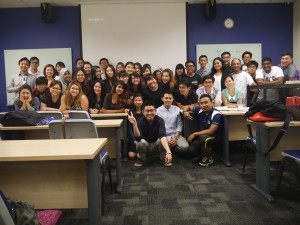 On Wed night, as i was heading to catch Captain American – Winter Solider at 12.15am, i happen to bum into two of my students from UCD Consumer Behaviour class. Nice 'reunion'.
Thursday, a hard good bye to my MK0274 Marketing Communications Northumbria University Class at Kaplan.
You know you will all be dearly missed. Thank you for spending your time with me on my birthday week.
Lastly, BIG thanks to all your word of encouragement. Check out what these students have to say about Strongerhead classes:
"You are the best lecturer who shares many relevant stories that help us to understand better! Your teaching is fun and enabled fruitful learning. I really enjoy whatever you\'ve taught! Thank you and I sincerely appreciate your guidance and effort.Thanks Jason!" Ronnie Ng
"Learning with Jason has always been a pleasure, he has a different way of teaching which is captured in our minds. Some sort like a marketing strategy. The examples mentioned during his course of study was able to relate to my course of work and gets my mind thinking. Kudos Jason, keep it going." Ashveen Nair
"Really lucky to have a lecturer like Jason (It\'s really rare to find someone like him nowadays), he may look young, but to be honest his depth of knowledge and teachings never disappoint us. Even when the topic is dry, he will always be able to fuse in some jokes and show the humorous side of him to make the lesson more interesting and fun. Sad to say today is last lesson with Jason, i really enjoy the lessons you gave and i wish you all the best! Cheers!" Zhen Wei
"I can honestly say Jason is the best lecturer I have encountered so far in my experience in Kaplan. His dedication to his students and teaching is obvious in his meticulousness in the study materials he prepares every lesson. Not many lecturers will go through the effort of going through books in their own free time and condensing it into simple bite-sized material for students. Lecturers like him are truly a rare few!" Ryan Wong
"I never liked marketing before, but when Jason taught me in Markets and Customers, I feel like it's now the most interesting subject in Uni. His broad knowledge and teaching skills always make the lesson fun and enjoyable. I personally think he has the best teaching skills and he always make sure that his students understand the lesson. Thank you Jason for sharing all the knowledge.
Hope to see you again, but definitely not at same module.. Hahaha" Kezia
"Everyone is unique in their own special way. Jason has been a very patience lecturer. It seems like he's "forever high in sugar". Whole day of lessons yet he can still bring the best of out himself to conduct the lesson in the evening. With his never say die attitude, Jason is indeed an inspiration to many.Lastly, keep chasing your dream and continue to be the best you. Jiayou, Jason!" Ashley aka Angel

"Firstly, happy belated birthday!!!! Attending your classes is like watching an interesting movie. My classmates always had their fries with them to compliment your lectures. May we score in the exams so your name will soar.Remember us, from PT NTH HRM 8, Team Black Diamond of SIMBrand." Andy Zhu
"Jason is a very good lecturer as he tries to make every of his lessons as enjoyable as possible. As we all know that studying for hours in the classroom can be very boring, but everyone in the class has been paying attention to his lessons as he has good teaching tactics. He has even gotten me to develop an interest in marketing. I will try my best to strive well in my upcoming exams. Cheers!" Philemon Tay
"Thank you so much for making the lesson less painful and I always look forward coming to your lessons. You are an asset to Kaplan, they are lucky to have you as one of their lecturers! God bless and keep rockin!" Nithiya
"Classrooms can survive without iPads and computers, but never without inspirational teacher like you. Thank you for being the irreplaceable teacher that you are. I really enjoy every lesson that you taught. Stay cool and keep in touch ya. :)" Eunice
"Hello Jason Tan,
一直没有到这里是因为我以为不可以用中文,哈哈哈,原来是可以的,那就必须要来了!!
首先要说,你的课,非常有趣, 这太重要了,好多时候,因为一些课比较平淡无聊,大家都昏昏欲睡,但是你的课,可以保证的说,没有人疲倦,大家都全神贯注,听得开心又认真。我很幸运, 我不止在degree上过你的课,而且我在diploma也上过你的课,一直以来你的课都是生动有趣,而且学到很多东西,在diploma学到的,我在degree也还能记得住。
我有听到好多同学称赞你,他们都非常喜欢你的课,上课开心轻松又能学到很多知识,这大概就是一个老师的成功, 而且老师你是非常成功。
以前的同学也有说过,你是他偶像,哈哈哈,他觉得你太棒了,他最想上的课就是你的课,说是你的课不只是书上的死内容,更是跟我们分享一些以后的在事业在社会的人生经验,我们都受益匪浅, 而且我们有几个是因为你在Kaplan教书,我们才更愿意到Kaplan读书,就是因为你可能会教我们哦,幸运的是,你还真的有教到我们,哈哈,开心O(∩_∩)O~~
非常真心的感谢你,能在异国他乡,能遇到几个非常棒的老师, 我真的很感恩,希望老师您一切都好哈!身体健康,开开心心,事业一帆风顺!!!" Anna Huang
---
---
Sep 11, 2016
by
felita candra
Course: Bbs marketing 23 •
Intake: 23
nice teacher! friendly and helpful! its great to be taught by jason tan!

---