30 May 2013 was the last lesson for my full time DSMM (Diploma in Marketing Management) intake 7 & 8, with comprises mostly students from China, Vietnam, Malaysian, Myanmar and 1 Singaporean.
Do not be deceived by their quiet nature during class, these bunch of folks are actually fun loving party animals when you get to know them better. But I had not party with them before. It was their rowdiness that spills the beans towards the end of the semester.
I am happy to have completed all 12 classes with them in a smiley note. My final wish for them is to ensure they do not let English language be a hindrance to their confidence and progression. Adopt the nothing is impossible spirit and you will see the light towards any tunnel that you embark on.
Strongerhead cheers to:
DSMM 7th intake:
Chen Huimin
Chen Jia Ming
Khin Yadanar Htun
Loo Lin Chang
Nguyen Duc Manh
Thieu Tran Duc Nhuan
Zheng JunWu
Zhou Xiaomeng
DSMM 8th intake:
Chen Shuanying
Chen Xiao Yao
Ding Ling
Doan Thi Hien Linh
Kim Tuan Dat
Lim Kian Jia
Muralitharan Aarthi
Nguyen Thi Kieu Diem
Nguyen Duy Duc
Tan Pei Hwa
Yin Qibin
Zhang Kun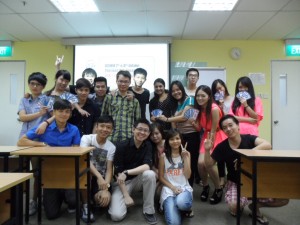 Here are some of the photos taken during class exercise…