Small class of 9 and I remembered clearly on our very first lesson, 28 Oct 2013 (Monday), their class participation and general attitude towards the module kind of clipped my wings. But as we progressed into the subsequence classes, I guess the warm up helps heaps.
They are very enterprising, very entrepreneurial. I shared numerous of my business ideas with them without holding any back. Had lots of fun and inspirational moments too. From selling Ma Chee (a local food snack) to selling coffin.
This class reinforce the importance of Relationship Marketing (RM), Customer Relationship Management (CRM) or rapport building whatever you want to call it. It works magic across everything you do. Makes everything more enjoyable too. I am glad the students open up to me which allows me to do the same too ending the class with on a positive note.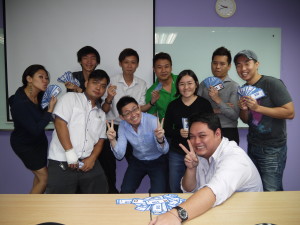 Chen QiBin
Chew Yi Zheng Janine
Ng Chee Boon
Quek Rei Wen Germaine Dior
Ong Wei Jun Roy
Juay Tian Long
Teo Hao Kiat Jerome
Lim Yang Zhen
Goh Kah Fai