Another quick 'case study' on how Strongerhead set up can be used to perform financial homework on commodity like Crude Oil.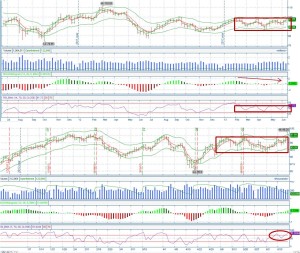 Crude Oil & USO weekly MACDH is showing sign of divergence. RSI is moving within a range signaling Crude Oil is trading side ways.
Crude Oil & USO daily has reached the top of its price envelop. RSI is in overbought zone. With a potential evening star candle stick pattern forming if Mon opens lower. That would increases the chance of crude oil moving in opposite direction of last week's oil price movement.
Let's see if it works out that way.
Cheers
Strongerhead ways to becoming a better trader
NOTE: All information provided "as is" for informational purposes only, not intended for trading purposes or advice.