As discussed last week, usually after a big move, a pull back is common due to profit taking. The first two trading days experienced a pull back before it made its run again towards a higher high. At this very moment, I hear some claimed, "bulls are in charge". I also hear many saying "bears are coming to take over soon". Let's hear what the charts have to say.
On the weekly of the Dow, prices are about to reach its previous top. On the S&P, a double top has already been reached. Will S&P topple? No one will know. Thus if you are still in the market, tighten your stop. Don't let your profit turned into losses.
Base on RSI and its price channel, still some room to go before we reach overbought condition. And no real divergence yet between price and my set of indicators. If you are feeling greedy, stay on the ride. If not, don't be shy to profit take.
On the daily, both long and short term RSI have moved up to near its overbought zone. That might act as a resistance level to the bulls. But if you look at the price channel, the pull back on the first two trading days have helped to cool off its overbought zone, now leaving some room for more upward movement should the bull decided to push forward.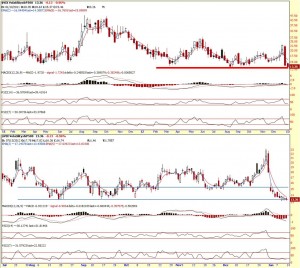 VIX (Fear index) prices on both weekly and daily are on its low. But base on the strength from MACDH on the daily, there's more possibility that VIX can go lower.
Summary:
Mid term view:
Trend is still UP.
Short term view:
Base on VIX, some pull back can happen. But in view of the mid term trend being UP, any pull back would be a dip in the uptrend for now. Unless the support on S&P 1450 is breached.
Cheers
Strongerhead ways to get you ahead
NOTE: All information provided "as is" for informational purposes only, not intended for trading purposes or advice.