Market ran up on the first trading day, VIX dip lower, and on the next day, bang, the market met with some turbulences but only lasted for a day. And the rest of the trading days was rewarding for the bulls. So the question is, will the rocket be landing soon?
I wish I have that crystal ball. Unfortunately there's only two people I know who has it. First person name is God, but he don't trade. The second person name is Liar, and you don't want to get near him.
So, should you buy or should you sell? Here's how I make that call, through my trading homework (weekly financial market analysis). It is not 100% accurate, but it can offer some predictability in the unpredictable market.
This week, I am only going to look at the S&P for the big picture. I've put 3 S&P 500 time frame side by side. And make no mistake about it, the market is still UP. First, let's take a look at the monthly chart (long term outlook).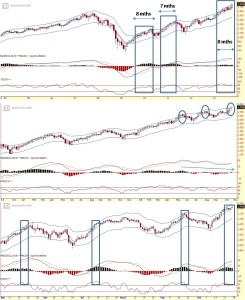 The market is still in long term bullish outlook. How much longer can it goes, no one knows. But based on some patterns, the upward movement can ride the top of the channel for around 7-8 months in the last two rallies after a major dip. In this current rally, it has gone up for around 8 months. Can it go higher? Will it start to dip? For it to dip, the weekly chart (mid-term trend) must show sign of weakness first.
The weekly chart (mid term outlook) has no sign of weakness yet. No divergence until the MADH ticks down on the extreme right edge of the chart. But price is near the top edge of the price envelop. When it is at the top edge, it increases the chance of a pull back (as it has done so in the last several occasions). So, will it pull back soon? For it to pull back, the daily chart (Short term trend) must show sign of weakness first.
On the daily chart (short term outlook), price is in overbought territory. MACDH is looking toppy. It can last for a month going nowhere (as shown during July – Aug period).
VIX (Fear index) weekly and daily is at the bottom of its support zone, low enough for a bounce. On the daily, it might repeat what it did in July – Aug before it bounce. Or else, it should bounce soon.
Summary:
Long term (monthly chart):
UP (overbought)
Mid term (weekly chart):
UP (overbought)
Short term (daily chart):
UP (overbought)
The trend is clearly up. Bulls are happy, if you are already in the trend. Should you then take the ride now? Yes you can. But if you insist, you have to take smaller position, tame your greed and run when you incur small loses. Here's my preference. The show has started about 8 months ago. Some says the show can last till next year. But if I missed a big part of a movie, I would give that movie a miss. Wait for the next screening, which might be coming up soon.
Cheers
Strongerhead ways to becoming a better trader
NOTE: All information provided "as is" for informational purposes only, not intended for trading purposes or advice.