The market dip lower last week which still confirms the short term down trend. As the Dow rallied to 13176, just 1 point higher than last Fri high, it began to fall. S&P 500 did the same as it moved up to 1416, just 3 points above 1413, and it started to pull back. I took this as a sign of weakness, and decided to buy VXX at $11.15, and got out at $12 as soon as S&P reached last week's low (1389) and Dow (13027) since i took the entry base on short term perspective.
This trading week is going to be shortened by a day. With a few key news that could potentially steer the market direction in any ways. Let's take a look at the charts.
Last week, Dow made a new low at 13015 but bounced off its low now sitting at 13090.
– 2 day EMA looks to cross 5 day EMA on the weekly.
– MACDH ticks down lower than its previous bar.
The weekly S&P 500 chart is telling the same story. But the 2 lines of EMA is not as close to one another compared to the Dow. but it takes on little effort to cross the two EMAs and signal a confirmed changed of sentiments.
For the past two weeks, the market would dive down to make a new low, and on the last day of the week, a relief rally took place to close above its new low. Both Dow and S&P 500 are still in its short term down trend. If this pattern continues, it will cause the weekly EMA to cross one another and probably signal a change in sentiment.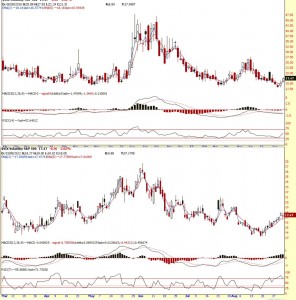 The weekly Chart of the VIX has turned into an uptrend. The MACDH has moved higher than its previous bar. If this continues, the market is going to slide further as fear fuels the market further.
The daily chart of the VIX has moved up several days in a row causing a short term overbought status.
Summary:
Mid term view: The market is still on an uptrend. But at a pivot point which might signal a change of sentiments.
Short term view: The market is still in a short term down trend. If you are still bullish, this any dip is going to be a buying opportunity.
Looking at the present weekly chart, the market is still at an undecided level. It could go both ways. Technically, there's more room for the down side as opposed to the upside. But that does not mean the market will go down immediately. The market would probably inch up again to convince others over the conviction of the bulls before a downward spiral takes place.
If the market continue to go lower in the next few days, and cause the weekly chart EMA to crossed, i am pretty convinced the trend has finally turned down. It would no longer be a dip in an uptrend.
With the VIX weekly chart in a confirmed Up trend, it gives me more reasons to be bearish. Any pull back on the VIX might be a good entry point.
NOTE: All information provided "as is" for informational purposes only, not intended for trading purposes or advice.