Never underestimate the power of greed. In last week market analysis, the market has more room to run upwards, but I expected the market to take a break before running up much higher for the week of 23 Dec. The bulls reacted stronger than expected last week. How about this coming week?
As I was doing this week's market homework, I was 'TRYING' to be too smart. Looking at the 100 year chart of the Dow and the S&P. Looking for clues on what could be next. Took me an hour before giving up. I realise I should not 'TRY' to be smart. Just trade the market based on what it is doing right now. And here's what the market is doing right now.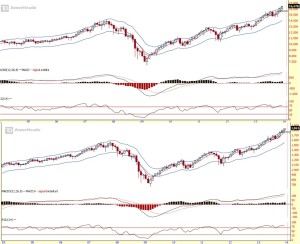 On the long term, the trend is still UP. Prices is at the edge of its price envelop. Which means the market is very bullish. RSI reads that prices are in their overbought territory. It can stay this way for 3 – 5 months based on the 5 years historical outlook. Which means this run has the potential to go on till early 2014.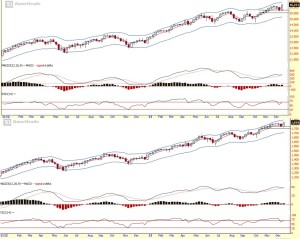 On the midterm, the trend is UP. RSI slowly inching into overbought condition. Prices doesn't stay at the top edge of the envelop for too long based on last two years of historical outlook. On average about 3 – 4 weeks. Which means in the midterm, there's a potential of the run leg to continue till next week.
The short term trend is UP but very overbought. Can it go even higher? Anything can happen. The question is, do you dare to buy at this point? However, with the year coming to an end, and the start of January barometer, do you dare to short?
VIX (Fear index) mid-term price is now at the support level. The short term chart shows VIX has rejected and bounced away from its low last Friday. VIX is ready to move upwards.
Summary:
Long term (monthly chart):
UP
Mid term (weekly chart):
UP
Short term (daily chart):
UP (very overbought)
In the short term, with RSI in very overbought and VIX in oversold territory, one has to be cautious. But with the market moving into Jan 2014, the strength of bulls at the present moment, and in view of Jan barometer the bulls is probably looking to take a statement with, bucket your SEAT BELT and take the ride up.
Cheers
Strongerhead ways to becoming a better trader
NOTE: All information provided "as is" for informational purposes only, not intended for trading purposes or advice.