The rally as we have expected, took place last week. Is it a relief rally or end of this down trend, let's take a look at the chart.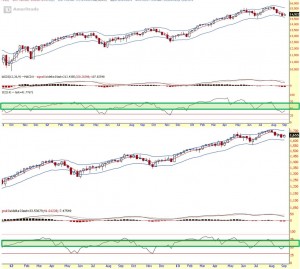 The weekly chart suggested a paused in the intermediate down trend. Long term trend is still UP as of last Friday. In the coming week, if the rally fails to continue, more down side to this trend.
Short term trend reacted like a rocket, launching off its pad. On Friday, there's a chance to break the bull's rally, but it didn't. Short term rally showing strength.
VIX (Fear index) weekly rally paused. After last last Friday shooting star candle formation, VIX price pulled back, now sitting on the top of the green box. The tip of the green box is resistance turn support for now. Looks like it could test the bulls again next week.
Summary:
Weekly trend down trend paused last week.
Daily trend is up, showing some strength based on last Friday's price action.
VIX daily trend now sitting on support. I won't be surprised if the bears were to challenge the bulls again in the coming week. What I am more keen to know is the ability of the bulls to keep the rally going until it breaks above 1670 (for S&P) with or without the attacks from the bears. If it doesn't bears are still in charge.
Cheers
Strongerhead ways to becoming a better trader
NOTE: All information provided "as is" for informational purposes only, not intended for trading purposes or advice.