It only takes 8 students to rock the class and shake the building. I laughed till I was grasping for air on the last day of our class (14 May 2013, Tue – Gee, this post is long overdue). But I must give credit to Chong Guang Wei, the Indian chef of DSMM 4th part time class. Not for his leadership, but for his crappiness which was responsible for most of the laughter, but also instrumental in helping many others remember the various theories by linking his actions to some of the various marketing concepts.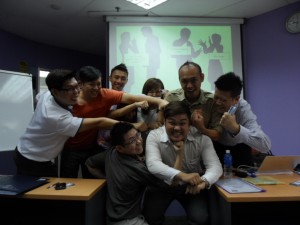 Although this was the smallest DSMM class I had ever taken, the students have managed to make every presence count. And their kampong spirit is commendable. They operate as a tightly knitted team, who is willing to offer a helping hand at every situation. This esprit de corps can be felt especially during the quiz (mock test), where one can get to witness SDU (special task force) in action, from passing notes to hinting answers in aid to provide each others with the right answers to the quiz and earned plenty of Strongerhead Dollars for their class participation marks. This collaboration spirit is in line to what the world is heading towards in order to bring them to a new height of success. This probably explained why they did fairly well for their exams. Keep the momentum going. You guys rocks.
Here's my last parting note for this class. I actually saw many folks with great growth potential for their career. Apart from all the core marketing concepts which I hope for them to remember and put it into good use, I would wish for them to not stop at Diploma, but complete their degree. That would free both your hands to compete effectively in the market place should you wish to continue climbing and making yourself relevant for the corporate ladder.
Strongerhead cheers to the 8 musketeers:
Chong Guang Wei
Lee Mun Wai
Lee Yuen Teck
Lim Ee Boon Alan
Mohamed Indra Bin Subathi
Oh Jin Zhu
Siow Hwei Mun
Eric Goh