February – April 2016 was the period where i get to experience several 'virgin' moments.
I got to teach Consumer Behaviour at UCD (University of Dublin) for the first time.
I got to teach Strategic Marketing at Murdoch University for the first time too.
Here are the class photos with my UCD students. Not everyone are present, but i am happy for those who stayed behind for the photo taking sessions.
Here are my Murdoch Strategic Marketing students of Class G and H. Can you guess which class has more energy and zest?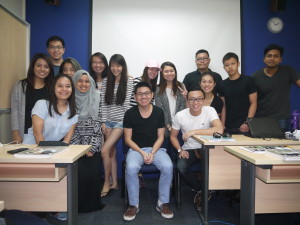 First timers are never easy, but some of the students have really made my journey a smoother and memorable one. I am thankful for those offered me their patience and kind understanding during this teething stage. UCD Students like Abigail Yang, Javier, Youjin, Valene, Jiyoung, Monica, Sheng Yen, Sham, Fanny, Nic, Herman, Soffyan, Rizal and several others who have given me strong words of encouragement. I am dearly thankful for that.
I also got to teach not one but TWO absolutely amazing classes with Part Time Diploma Mass Communications intake 25 (PTDipMComm25) and Full Time Diploma Event Management intake 7 (FTDipEM7). These folks are definitely a fabulous bunch. I enjoyed every moment with them, a real joy and blessing to have them for my Marketing Principles class. Passionate and hungry students are hard to come by, and i have almost two classes full of hungry students fuels with positive learning attitude.
Here are the class photos of PTDipMComm25 and FTDipEM7.
I would like to thank all those who have invested your time to pen down your thoughts and comments about my lecturers. I will definitely work harder to make my classes more fruitful and enjoyable in the future. Here are what some students have to say about my classes.
"A lecturer who is probably a few years older than me and earned my respect. As a matured student with work experience, my attitude towards learning is different from other classmates, probably because I have been working in the workforce for several years before I decided to go into full time studies. Jason, my lecturer has displayed his undaunted spirit of motivating the students and tries his best to grab attention from the entire class of around 90 students (whereby most of them are just talking among themselves and literally not listening) to ensure that each student understands what was being taught. It is indeed very challenging to do so because for any normal human beings, the natural respond to such a scenario would probably be "disappointed", "not motivated to teach further", "can't be bothered" or even start screaming at the class. But Jason was different, he knew that the module itself was a very "dry" module with lots boring theories that might make the students to lose interest and probably "get lost" in the midst of each lecture, therefore he tries his very best to ensure that EVERYONE understood what he was teaching and was really patient with those "untamed and irresponsible" students that literally just know how to complain and complain and complain without putting in efforts to learn and digest what he taught in class. As your student, I really want to tell you," Jason, you did a great job!" As for those students who are "untamed and childish", please ignore them. You are an asset and always will be!" Abigail (UCD)
"Jason is the best lecturer i've ever met before. It was really pleasure to have Jason as my lecturer. He has very good knowledge and confident about what he is teaching. Also, he makes sure all classmates understand his lessons. I could feel that he is really putting a lot of efforts to interact with his students also. It was definitely helpful to improve my marketing knowledge. Overall, I'm very satisfied with his lessons. Thank you so much Jason" Jijoung (UCD)
"It took a little long to post this, and I'm not one to be convinced so easily, but I dare to say Jason Was the Best Lecturer I Ever Met. The passion in everyone of his lectures and the way he is able to engaged all the students attention even the most tough ones is no small feat. Every lesson is enjoyable and fun. In addition, to his personal life experiences and ability to bring the book to life. I won't say he is the Best of the Best, but his care n concern for every students, this aspect alone is enough to make him one of the few remaining lecturer that Actually Do Care About the Students. And to that Me and My Mates are thankful to have him during our duration of this course with UCD. THANK U CHER!!!!" Valene (UCD)
"Throughout the 18 months of my uni program, i must say that Jason is one of the best lecturer. Not only making the lesson engaging and enjoyable, but he succeed on making almost 90% of student come to class everyday even though the class is 8 in the morning which is rare based on my experience 😀 His broad knowledge and experience in marketing really helped me to see how the theories works in real life. I would like to thank you for the learning experience which is one of the best way to top off the last semester of my uni program. Have a good day, God bless!!" Monica (UCD)
"Jason is one of the best few lecturer you can find in SG! He will teach and assist the student to the fullest within his means. He is engaging and fun for the whole course that make students wants to attend his classes. And best of all, he teaches the class not just 1 module but 2! which is great to have a fun lecturer throughout the last term. Kaplan and UCD should be glad they have this lecturer as he is one of a kind! Glad to have him to show us our path to the bright future ahead! THANK YOU JASON!" Sheng Yang (UCD)
"I have never met anyone with so much passion for marketing while making lectures as fun and as easy to comprehend as possible. Every class was a joy to attend,not to mention how he applies marketing theories in our everyday life so that we can understand better. Jason is by far the most dedicated lecturer I have ever met with a burning desire to inspire and motivate students to their fullest potential. I would like to wish you all the best in your future and hope that our paths will cross again someday. Thanks so much for the wonderful learning experience" Sham (Murdoch)
"One of the best lecturer I've came across. It's rare or near to extinct to find a lecturer/teacher that puts himself in students' shoes to understand how they feel when the exams are nearing or how they feel in class. Jason makes his lesson so interacting that there's never a chance you'll feel bored. His efforts and passion in teaching touched me and my group of friends. In midst of all the fun, he makes sure students understand all the concepts that he had went through in class. These traits of him made him a dinosaur. The only one left in the species believing that it's extinct in the society." Fanny (Murdoch)
"Jason made marketing an enjoyable experience. Very interactive class and many useful anecdotes were shared. Probably spoilt all other lecturers for us for the rest of the course.. Thanks for sharing your knowledge and experience with us!" Nic (Kaplan Diploma)
"It has always been a challenge for part-time student to attend school after working for the whole day, but somehow Jason lessons are always fun and enjoyable that you would never skip it no matter how tired you are. Lessons were never taught through slides, but shared through his vast experience in marketing. By engaging frequently with students, he is able to capture our attention for the whole duration of the lessons,which I personally believe was the key that differentiate him from other lecturers. Get ready to be educated, motivated and inspired by this one-of-a-kind lecturer!" Herman (Kaplan Diploma)
"A great amusing and well-informed lecturer who does not make the class bored. Explanation was clear and even own experience was shared with the whole class to keep on learning and abit of entertainment as well.Thank you Jason for the experience and knowledge that you had shared with us!" Soffyan (Kaplan Diploma)
"I think there's enough praises for this guy and I will definitely say the same thing. It is not just the passion he has for marketing but he somehow fuel the failing fire in me to restart my business again. He showed me exactly what are the missing pieces and yes, I'm on my planning stage to restart my business again. By far the most passionate and dedicated lecturer I've ever met. Thank you so much Jason for the lovely learning experience and hope to see you again someday" Rizal (Kaplan Diploma)
You may read more comments at http://strongerhead.com/testimonial/