We have a new record. The pull back was on Thurs after the market rise further. Many wouldn't have the courage to ride on the very mature up trend. But those who did, what's next? And for those who did not, what' next?
The monthly charts of Dow and S&P is still on a clear uptrend. RSI has reached 85. Can it go higher?
Let's take a look at its probability base on the last 100 years.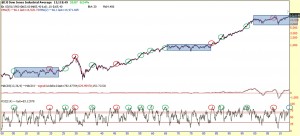 There were 14 occasions where RSI reached 85 in the last 100 years. Of which 9 (indicated by green circles) out of 14 times, price rallied higher, and 6 (indicated by red circles) out of 14 times, it signaled a market top.
For the last 100 years, prices will stays sideways for around 20 years (indicated by the blue box). Base on the blue box, time is not ripe yet for a break out. If you are more of a "time" person, you would probably be on the 42% chance that the market is in a topping action.
On the weekly chart, the trend is clearly up. Some signs of divergence from RSI which signals a possible topping action. Let's take a look at the daily to confirm if this is happening in the nearer term.
On the daily chart, prices have touched the top of its envelop and pulled back. But it is still sitting near the upper band of its envelop, in overbought condition. A pull back wouldn't be too alarming to cool off its overbought condition.
Weekly VIX (Fear index) is still moving sideways. Daily VIX price is near the bottom of the green box. If RSI is on the 25 points scale (oversold), that would increase the chance of potential pull back happening this week. But it is currently low enough to trigger a pull back base on this support line.
Summary:
Long term view:
Trend is UP. 64% chance it will continue to stay up.
Mid term view:
Trend is UP.
Short term view:
Price is on the high side. VIX is near its bottom.
if you are already long in the market, you may choose to ride the trend until it reverse.
if you have not, you don't want to buy at a high. Any pull backs (if it happens) would be considered a dip in the uptrend.
Cheers
Strongerhead ways to becoming a better trader
NOTE: All information provided "as is" for informational purposes only, not intended for trading purposes or advice.