I'm pretty late with this week's update. I have only myself to be blamed, as I was down with a really high fever. 3rd time within a quarter. Health is really an important aspect of wealth. Without it, I can't focus on work, can't work at all to begin with, can't analyse the financial market on time too. No homework means no trade for the week. Which is why I am rushing to put up my WMA for the week of 21 Oct 2013.
Last week, the rocket powered by the bulls and did what I thought it would have done last week (refer to strongerhead.com/?p=3434 for reference). Let's study the 'rocket's' speed and amplitude using the charts.
Monthly (chart not shown here), still climbing up the hill.
S&P weekly is more bullish than DOW weekly. S&P near overbought while DOW is still in neutral zone. However, both are pointing up.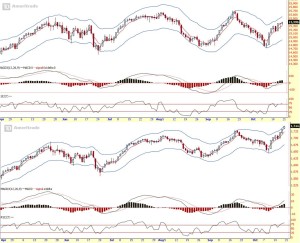 On the daily charts, as mentioned, RSI is near overbought. First trading day got the prices to flirt with overbought zone, and a pull back occurred for a day, followed by a rally with a vengeance. By end of the trading week, S&P is at top of its price envelop, RSI into overbought zone. DOW near top of its envelop, and RSI in overbought too.
VIX (Fear index) weekly is at the bottom of its support zone. VIX daily price dropped to the lower edge of the green box and rallied slightly. Both RSI reading suggest there's some room for VIX to dip lower. But that does not mean it is not ready to dip now.
Summary:
Long term (monthly chart):
UP (near overheat zone)
Mid term (weekly chart):
UP (near overheat zone)
Short term (daily chart):
UP (In overheat zone)
The trend is clearly up. But if you have not bought, you risk buying at a high. I will wait for my opportunity to arrive. Based on S&P daily and VIX daily, the chance should arrive soon. If you have bought, do not let profit turn into losses.
Cheers
Strongerhead ways to becoming a better trader
NOTE: All information provided "as is" for informational purposes only, not intended for trading purposes or advice.