Just as we had discussed, the market last week was indeed flat but volatile (ranges up and down but going nowhere). Buy on down day, sell on up day works. Will it continue to work? Let's take a look at the charts for clues.
Monthly chart (which helps project the longer term perspective of the market trend – not shown today) is up. Not overly heated as RSI is still not deep into overbought, and price has not even touch top of its envelop.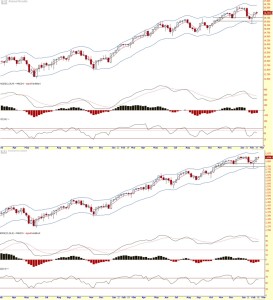 Weekly chart (which helps to project the mid term perspective of the market trend – as shown above) reads potential danger. Although RSI not in overbought zone. Prices not reached top of price envelop.
But both Dow and S&P shared similar pattern (as shown below under markings 1, 2 and 3), which suggest possible resistance in action for a pull back.
Daily chart (which helps to project the short term perspective of the market trend – as shown above) shows that the market has cool off slightly based on RSI. But for the last one year, RSI has never cool off a bit and resumes its rally. I prefer to see RSI cools into a deeper level for a better entry.
VIX (Fear index) mid-term price sits in the middle of its range. VIX Short term price retested $14 and pulls back but now sitting in the middle of its price envelop, but near the top of the green box. Based on last Friday price action of VIX, looks like it wants to go higher again.
Summary:
Long term (monthly chart):
UP
Mid term (weekly chart):
UP
Short term (daily chart):
UP but flat
Weekly spells danger. Nature of time frame means the danger might not be immediate. Daily and VIX giving mix readings, the coming week is a tough call to whether to long or to short.
There's a saying, when unsure, stand aside. Let the market make its move first before we make our moves. Or take both sides if you know how.
Cheers
Strongerhead ways to becoming a better trader
NOTE: All information provided "as is" for informational purposes only, not intended for trading purposes or advice.