Those who had kept your faith with the bulls should have profited from the dips. If you have not taken your profit off the table, just ensure you do not let your profits turn into losses.
April is coming to an end, the monthly candle of April looks poised to close UP. Next week, if the market does not close higher (ideally breaking and staying above 1597 for S&P), it would increase the risk of more downward moves.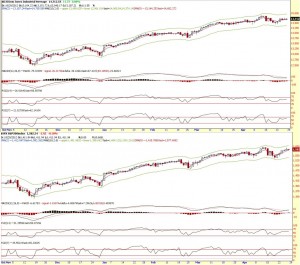 Daily charts showed prices are in a neutral zone (neither overbought nor oversold). Not exactly adding any value on next week's outlook.
VIX (Fear index) weekly is not going anywhere. Daily price is flat as well, but keep itself at the top edge of the green box (which I have drawn). Although it should signal that fear is contained, but not entirely well controlled as it can break out of the box easily with any bearish move.
Summary:
Mid term view:
Weekly trend is UP.
Short term view:
Daily chart of Dow and S&P, as well as VIX are neither overbought nor oversold = no man's land.
If we take the lead from the bigger picture, and believe the trend is your friend, you can only long or stand aside.
Charts aside, my gut is telling me VIX is sitting on support and will head upwards. Big picture is in danger of a possible double top. If you must buy, wait for that pull back. If you want to short, wait for a false upside breakout.
Cheers
Strongerhead ways to becoming a better trader
NOTE: All information provided "as is" for informational purposes only, not intended for trading purposes or advice.